Meadowbrook Meat Market
Meadowbrook Meat Market "Home of Jimmie Lamb Ham"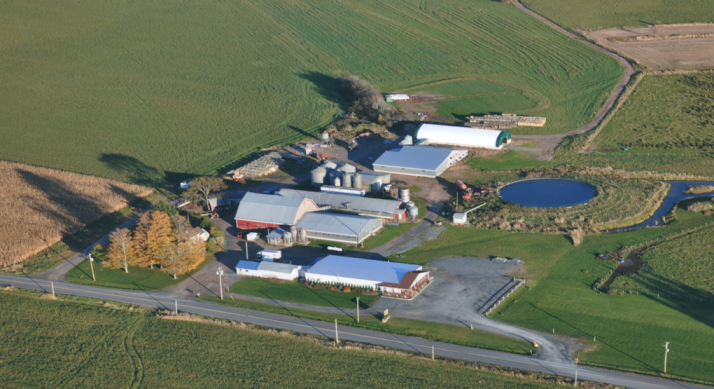 Meadowbrook is a first generation hog farm owned and operated by Jim and Margie Lamb along with knowledgeable, dedicated staff. Our farm, retail and processing facility is located in Somerset, just north of Berwick in the Annapolis Valley. Meadowbrook has been growing hogs since 1978. The 65 acre farm has transitioned several times over the years. This was partly by choice by augmenting our natural grain based feed formulation with a flax based premix which means our pork is the only one in Atlantic Canada to be Omega 3 and 6 enriched, and also due to circumstances such  as markets and dealing with the loss from fires. We closed other farm sites, rebuilt at home and brought all production to our home site –lessening our environmental footprint of travelling to offsite barns. Our hogs are born and raised on our farm free of antibiotics, they are  Landrace and Large White cross. Visit www.meadowbrookmeatmarket.com to see how we raise our hogs and our FAQ's
We started direct marketing from a small two room shop in 1988 by trying to sell a side of pork on a Saturday. Throughout the years, thanks to devoted customers telling others about us, we expanded our market and processing to what it is today, processing about 226,760kg/500,000lbs of pork in 2013. Our facility is provincially inspected- we do not slaughter – that step is done at arm's length operation. We process our pork into hams, bacons, sausages and wieners -Jimmie Dogs, deli meats, and smoked bologna (all without gluten, MSG, or animal by-products) and we have a line of fully cooked products that are ready to heat and eat. All of our pork products carry the Nova Scotia Premium Pork Logo – which identifies it as being pork born, raised and processed in Nova Scotia. See the criteria to be met that give consumers insight into this branding.
We presently sell almost all the hogs we grow through our retail and our wholesale customers, (independent markets and restaurants) throughout province including the HRM. We have delivery services scheduled through the valley and HRM and delivery can be arranged to western valley/ south shore.
Catering started in the 1990's doing whole pig roasts and expanded to other meats and salads, etc. We cater weddings, backyard parties, fundraisers, anniversaries, community events, company appreciations, safety celebrations or whatever the occasion may be- and if you want to do the cooking yourself -we can provide a pig the size you need for your number of guests. (902-538-3623)
Our retail markets both at home (902- 538-1106) and Alderney Landing, Dartmouth  (902 -464-2272) carry a wide range of our pork products, Atlantic beef (grown by Atlantic farmers, and slaughtered in the federally inspected plant on PEI), locally grown free range chicken, turkey and lamb. Most of the other "non-meat"  products we carry are from local farms and businesses found in Nova Scotia and Atlantic Canada, reflecting our commitment to supporting a strong local economy.
Meadowbrook is a proud member of several Nova Scotia organizations: Pork Nova Scotia –Jim has served on the board of directors throughout the years, and has been committed to keeping and now rebuilding a hog industry in this province, N.S. Federation of Agriculture,  Select Nova Scotia, Taste of Nova Scotia with our signature product being Ham  and was Producer of the Year in 2011, As members of the local chamber of commerce (AVCC)  we received Innovator of the Year in 2010 & Small Business of the Year 2013  and Jim was recognized  previously with a Life Time Achievement Award. . In 2011 we were recognized as one of the three finalists in the BBB small business category for an Ethic Award. We participate in events such as Select N.S. Picnics, Sausage Fest, Wharf Rat Rally, Big Brothers & Big Sisters Duck Race and the list goes on…
Our commitment to community is not only through supporting local businesses by using and selling their products, but also with involvement with the Kings Mutual Century Centre, Rotary New Minas Sunrise, Jim and Margie were named Paul Harris Fellow by Rotary International 2013. We directly support fundraisers for specific groups throughout the year such as Ducks Unlimited, service groups and offer a save your receipt program for schools, community, church & teams.