Prominent Nova Scotia Pork Producer, Jimmie Lamb Passes Away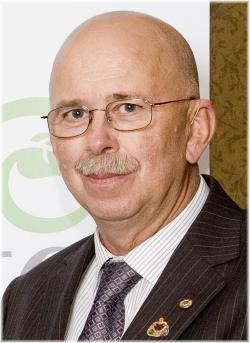 James Bernard "Jimmie" Lamb – Jimmie passed away peacefully on April 15, 2016 surrounded by family and loved ones at the Annapolis Valley Regional Hospital. Born on November 5, 1950 in Berwick, Nova Scotia, he was the oldest child of James and Margaret Lamb. He is survived by his wife and best friend, Margie (Silver) Lamb; children, Natasha (Chris) Clarke, Tenille (Matthew) Peters, Alyson (Darryl) Ingram, David (Michaela) Lamb, and Emma Lamb; grandchildren, Hannah, Nicholas, Rayne, Ewan, William and Adaline; parents, James and Margaret Lamb; siblings, Marlene (Ronald) Connell, Suzanne (Beverly) Spicer, Sherilyn (Lindsay) Kinsman, Joanne (David) Fairfax, Timothy (Susan) Lamb, Byron (Elizabeth) Lamb, Beth (Rick) Hamilton and many nieces and nephews.
Jimmie cherished his family, his friends and his community. He left a profound impression on all those he met and will be remembered for his compassion, endless teasing, stories, hard work and passion for helping others. He was an avid volunteer and supporter with organizations such as Kings Mutual Century Centre (Apple Dome), Rotary Club of New Minas Sunrise, Berwick Baptist Church, 4-H and the list goes on. Jimmie was also a Berwick Sports Hall of Fame Inductee for being a long time member of the Berwick Bruins Hockey club where he played goalie. He loved to be surrounded by family and friends, to play and watch hockey, take his grandchildren on tractor drives and talk to anyone and everyone.
He was a farmer first and foremost, graduating from the Nova Scotia Agricultural College in 1972; a visionary and an eternal optimist, as evidenced by the growth and success of Meadowbrook Farm and Meat Market. He worked tirelessly to help maintain the hog industry in Nova Scotia by converting his farm into direct marketing before "Buy Local" became a much needed movement. He was always supported by his family and devoted staff whom he truly cared for. Thank you to everyone who has supported Jim and his family, not only over the last two and a half year battle but throughout his life.
Visitation will be held from 5-8 p.m. Tuesday, April 19, 2016 in the White Family Funeral Home, Kentville. The funeral service will be held at 1:30 p.m. Wednesday, April 20, 2016 in the Kings Mutual Century Centre (Apple Dome Arena), Berwick. A private family burial will take place in the Berwick Cemetery. A reception will follow in the Berwick and District Lions Hall at the Kings Mutual Century Centre. In lieu of flowers, donations may be made to Kings Mutual Century Centre or Fidelis House Society. Funeral arrangements have been entrusted to the White Family Funeral Home and Cremation Services, Kentville. For on-line inquiries, condolences and a webcast of the funeral service please visit www.whitefamilyfuneralhome.com.